DIE : Dreieck Interférences Ensemble

orchestre modulaire

Le Dreieck Interférences Ensemble est un orchestre à géométrie variable qui a été le projet fondateur de l'association Dreieck Interférences. Celui-ci a pour but d'expérimenter la musique au sein d'un grand ensemble dans des formes de compositions et d'improvisations collectives. Il regroupe des musicien.nes issu.e.s de différentes pratiques musicales, qui sont pour la plupart basé.e.s dans l'est de la France.

The Dreieck Interférences Ensemble is a variable geometry orchestra which was the founding project of the Dreieck Interférences association. It aims to experiment with music within a large ensemble in forms of collective compositions and improvisations. It brings together musicians from different musical backgrounds, most of whom are based in eastern France.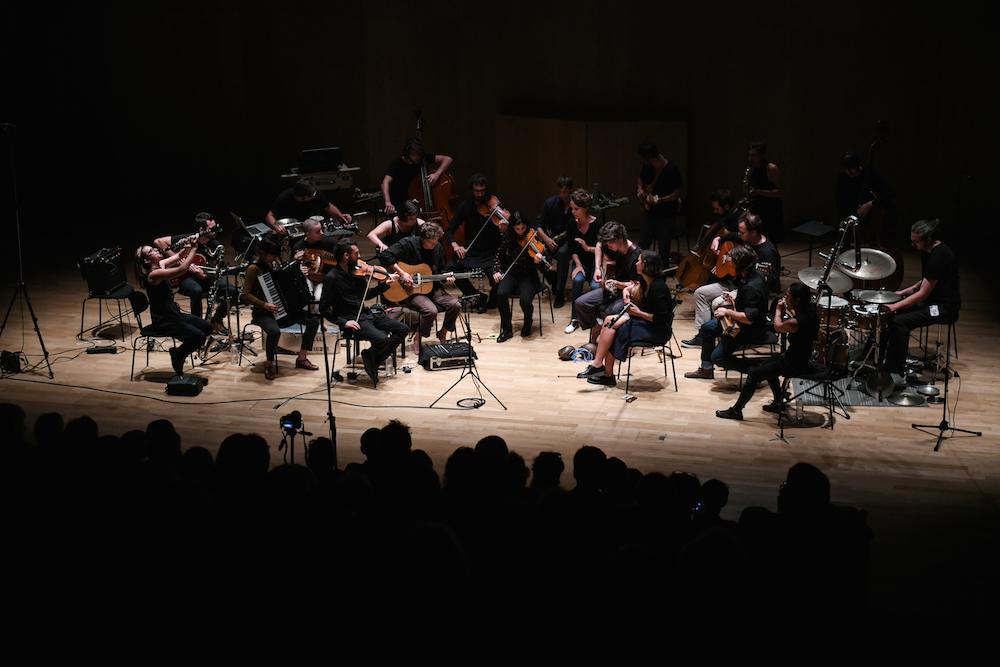 ENREGISTREMENTS

Live at Meteo Festival 2019, Mulhouse




musiciennes et musiciens ayant participé à l'ensemble :

Karam Alzouhir (alto), Hector J. Ayala (guitare électrique), Jeanne Barbieri (voix), Lise Barkas (vielle à roue), Alma Bucciali (violoncelle), Félix Chaillou-Delecourt (vielle à roue), Stéphane Clor (contrebasse), Julien Desailly (cornemuses), Anil Eraslan (violoncelle), Xavière Fertin (clarinettes), Laure Fischer (saxophones), Louis Freres (contrebasse), Alicia Girod-Kusmeruk (violon), Ross Heselton (guitare acoustique), Maria Laurent (pianet), Jeremy Ledda (batterie), Olivier Maurel (électronique), Thomas Malmendier (batterie), Ayako Okubo (flutes), Léonie Risjeterre (guitare acoustique) Ruben Tenenbaum (violon), Merve Salgar (tambur), Emilie Škrijelj (accordéon), Evan Vercoutre (guitare classique), Théo Zimmermann (guitare électrique)


DATES

2021/09/07-10 Le Grand Vertige, festival et rencontre avec L'ensemble Grand 8 (http://grand8.org/), Marseille
2020/04/13-16 DIE Lab #2 @ Théâtre de Hautepierre, Strasbourg (annulé covid19)
2020/02/27 Live @ Stimultania Strasbourg
2020/02/24-27 DIE Lab #1, Strasbourg
2019/08/28 METEO music festival, Mulhouse
2019/08/21-27 Residency @ METEO music festival, Mulhouse
2019/06/22 Station Meteo concert @ Motoco, Mulhouse
2019/06/20-17 Residency @ Collectif des Possibles, Wesserling